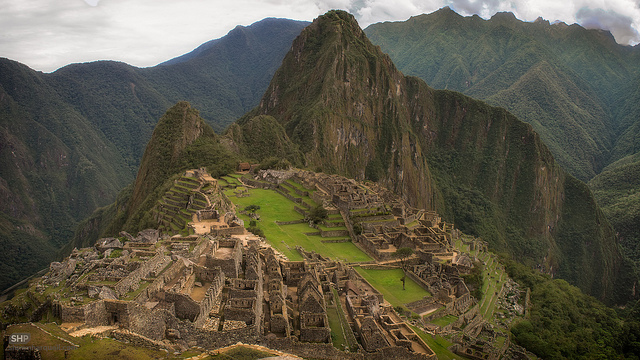 Last year, a couple was caught on film streaking across a grass field in the historic Inca estate of Machu Picchu. The videos, which were widely circulated online, dovetailed with a similar concept that was catching fire on Instagram at the same time: #thetoplesstour. The result was a resurgence of naked tourism, this time with extremely viral selfies.
Over the last week, four Americans, two Canadians and two Australians have been detained in separate incidents (and various stages of undress) at Machu Picchu. Peru's Ministry of Culture is so beside itself with righteous indignation that it's been momentarily struck with amnesia and, having forgotten every Carnaval and Fiestas Patrias ever celebrated, called the trend a threat to Peru's "cultural heritage."
Nudity, however, has managed to do what the UN's cultural division, UNESCO, failed to do: force Peru to get serious about the impact its visitors are having on the country's legacy. In 2011, Peru's complete failure to acknowledge what tourism was doing to its historic places led UNESCO to threaten to classify Machu Picchu as an endangered heritage site. To keep it from happenings, Peru finally compromised to cap daily visitors to the site at 2,500 persons, plus an additional 500 hikers arriving via the Inca Trail. But when added up, that totals well over a million — a number of annual visitors Peru had never recorded at Machu Picchu at that point.
The change had the unintended consequence of further driving interest in the site, with the past two years easily breaking the million annual visitors mark. With every step further compacting the earth and weakening building foundations, one million annual visitors may still be too many for the historic Inca estate.
But now, thanks to the antics of a few nudists, Peru's Ministry of Culture has determined that all visitors must be accompanied by a guide, who will lead them around the site on one of three standardized routes that allot specific amounts of time to each of the key points in order to keep the traffic flowing, minimize damage, and prevent shenanigans. To ensure compliance, the ministry has promised increased surveillance as well.
I would say that this sort of behavior is why we can't have nice things, but in this case, it seems as though this kind of behavior is the only thing that has so far ensured that future generations do have nice things. So thanks, you selfie-loving nudists.
Header image by Shawn Harquail (Flickr, CC BY-NC 2.0).