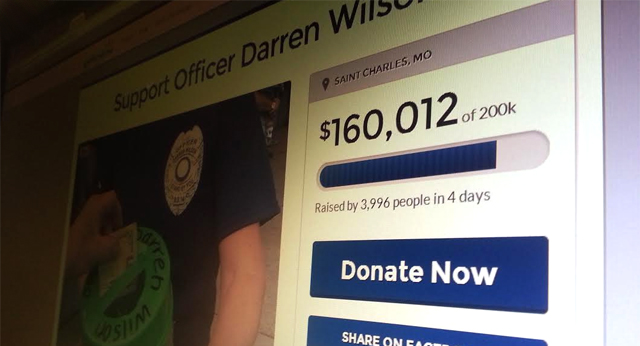 Over the past three days, 3,996 people have donated to the GoFundMe campaign of police officer Darren Wilson, the man who shot 18-year-old Ferguson resident Michael Brown six times on August 9, killing him. Wilson has been lying low since his name was released last week and he went on paid administrative leave, but his supporters have been active. Among these supporters is the KKK, which according to the Southern Poverty Law Center, is raising money for what they term the officer's "reward/fund."
GoFundMe has made no statement about this. Curiously, neither has WePay, the company that they use to move money from donors to campaigns. WePay is notoriously finicky about who they help get money to, going as far as to survey campaigns to ensure they're up to their standards. In May, WePay refused to transfer the $545 that adult performer Andre Shakti had raised using the crowd-funding site Fundly in order to attend a conference.
A week later, WePay proved that they don't only check campaigns when they wrap, but seem to actively police them. Cam girl and adult performer Eden Alexander had started a campaign on GiveForward, which also works with WePay, to raise funds to cover her medical bills. Unlike Shakti, who was attending an adult industry conference, Alexander's campaign objective had nothing to do with the business. She was battling full-blown staph infection and organ damage and needed help. It didn't matter. She hadn't quite made a grand (out of $4,000) when GiveForward contacted her to let her know that WePay was forcing them to cancel her campaign and freeze her funds.
WePay told her that they weren't cancelling on her because she was a sex worker and assured her that she hadn't broken the rules. It was that other people seeking to help her had promised to give adult products to donors. This is how thoroughly WePay enforces its reputation.
And yet here we have the Support Darren Wilson page on GoFundMe, which also uses WePay, filling by the minute with hateful comments. The messages posted alongside donation amounts by campaign supporters say things like:
"You deserve a medal, not a trial by jury."
"Thanks for giving that gorilla what he deserved."
"This is the end of White America! If white people would not wake up in time, soon they will begin chopping us in the streets, just like they are doing now in their native Africa. Together with third world invaders, they are now this country's enemies; and this time the enemies are already inside the gate!"
"Its do time we put them on notice if you act like a animal the police will have to act swiftly to stop you! No [U.S. Attorney General] Eric Holders No obamas to save the savages!"
"Somewhere between 6,900, (2011) and 9,000 (2013) blacks are committing murder annually compared to about 400 OF ALL cases of law enforcement members killing, blacks. AND, not all of the cases were the law enforcement officers found guilty of murder or even man-slaughter."
"Officer Darren Wilson is a member of the 'Thin Blue Line' that protects good people from barbarians like Michael Brown."
"Mike Brown had my permission to die"
"This is too good to be true! I fully support Darren '6 million shots' Wilson."
"They say they are anti-racist. What they are is anti-white. Anti-Racism is code word for Anti-white."
One of the supporters went on to quote Mark 15:14, likening Darren Wilson to Jesus Christ before being crucified. Over and over, the words "lynch mob" and "lynching" are used to describe the citizens of Ferguson, with no irony or even a hint of historical awareness. Someone posting as Jim Crow (a clear reference to racial segregation laws) commented, "I would have donated double this amount, but you missed his accomplice."
Important figures of the civil rights movement have been appropriated by supporters as well. Someone posting as Rosa Parks commented, "I would have went to the back of the bus for you, Officer Wilson!" Another person commenting as Martin Luther King, Jr. used an actual quote by the civil rights leader in their message of support: "Darkness cannot drive out darkness: only light can do that. Hate cannot drive out hate: Only love can do that."
President Barack Obama's name has been used several times as well. "If I had a son who robbed a store for blunt materials and then assaulted a police officer, he would look like Michael Brown," said one of the posts. Most enraging, Michael Brown's name is being used as well — to donate sums of $100 or more.
The campaign has raised a "reward/fund" of $160,012. What are you going to do, WePay? Here are your terms, in case you need a reminder: